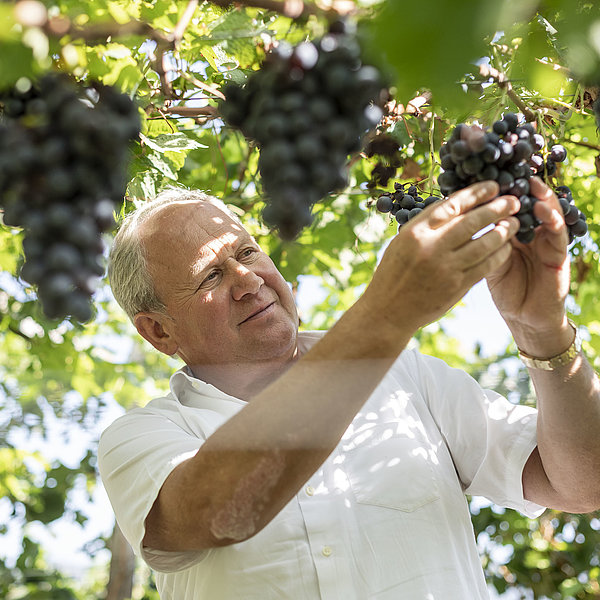 PEOPLE
With a lot of experience towards elegance and finesse
Producing wine according to a pattern is not his thing. Hansjörg Donà's products have to be exciting and elegant. After 31 years in the service of the Burggräfler winery, the long-time cellar master went into business for himself with the winery in Unterrain, which he took over from his father Alois in 1995. In 2011, the garage was converted into a fermentation and storage cellar, and a Ziggl (= deep well) was dug for air conditioning. After ten years now, Donà presents site-specific and authentic wines, very artisanal in production.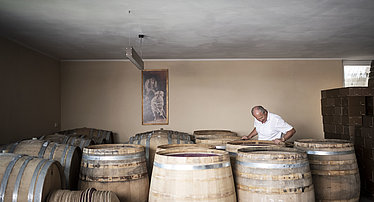 The calcareous clay soil of the two-hectare sites "contributes significantly to the incomparable personality of our wines," says Donà. The Terlan Chardonnay, which accounts for 40 percent of the annual production of more than 30,000 cases, deserves special mention. Special attention is also paid to the small quantity of Merlot-Lagrein. The range is complemented by Vernatsch, which accounts for 30 percent. Pinot Blanc and Sauvignon come from sites in Dorf Tirol and complete the selection line. The wine label shows the local mountain.
For top quality white wine, Donà relies on bâtonnage: "To leave the wine with its mother, the yeast, for a whole seven months, it is kept in motion," he says, explaining the process of weekly stirring. The wine press proves the cellar master right. So does his first critic: son Josef; although the wine is close to the heart of the entire family.
The umbrella brand Eppan Wine unites wine producers, sparkling wine producers and distilleries. It is the interface for wine lovers and producers, guests and partners, the tourist association and the municipality.