The best from Eppan
Take a look into the world of Eppan's culinary delights.
High quality and regional.
When you go shopping in South Tyrol, you are spoilt for choice. Surrounded by the best wineries, distilleries and countless quality products, South Tyrol can be called a paradise of pleasure. Enjoy our specialities and don't forget to take something home with you. A glass of Eppan wine is sure to make you reminisce about your holiday.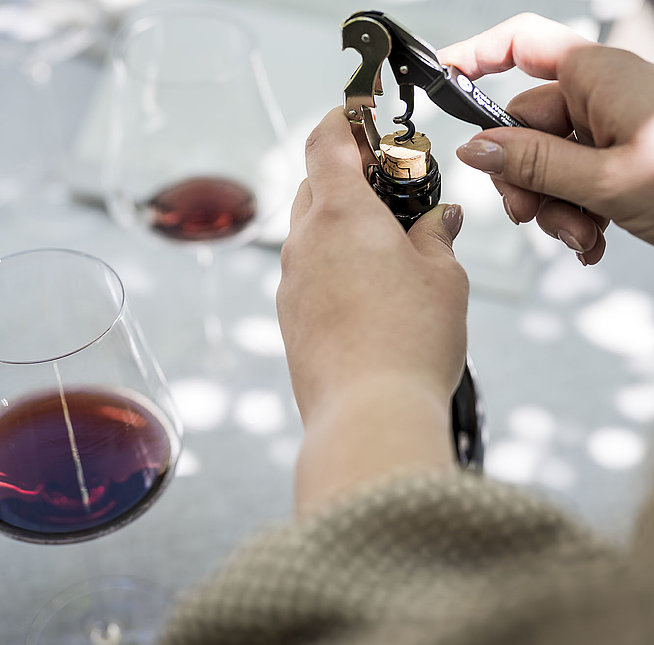 Wine lovers
Wine has been grown in Eppan for over 2,000 years. And it does so with pride.
The area around the charming wine village has always been known for its ideal conditions for viticulture.
Details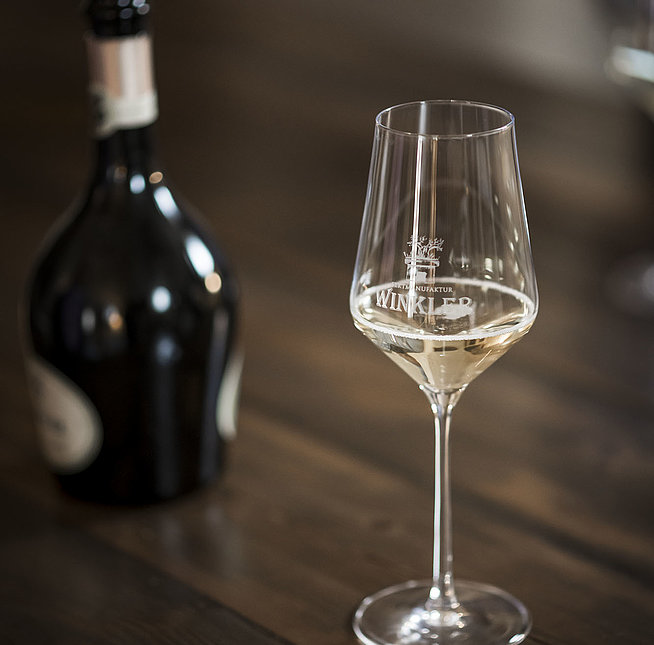 The sparkling wine from Eppan
Magical moments
Eppan is not only a wine village, but also surprises with very noble pearls in the glass. The three sparkling wine producers in Eppan score points with their flair.
Details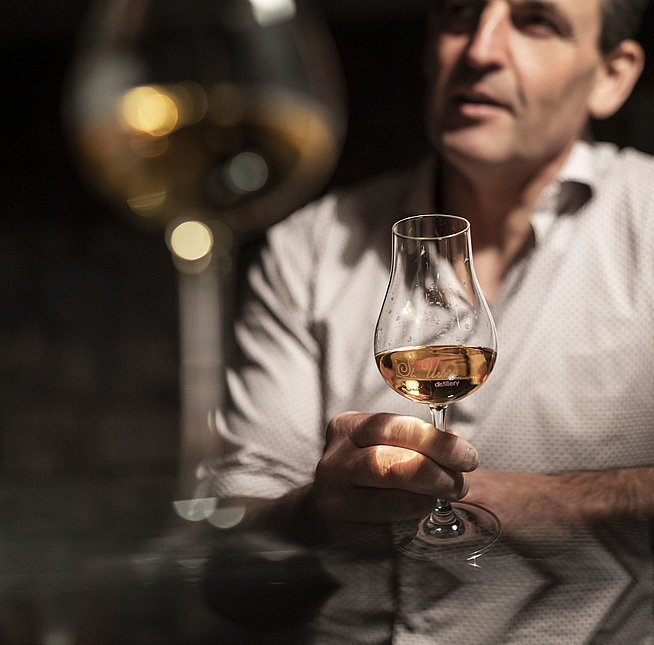 The distillates from Eppan
Acquiring a noble taste
Exceptional Eppan distillates: from the best of nature and a lot of passion.
In addition to many well-known types of wine, numerous fine distillates are also produced in Eppan on the Wine Road. From impeccable fruit, distillates of the highest quality are produced, distinguished by their characteristic aroma and harmonious taste. Palate pleasures of a somewhat different kind that are worth tasting.
Details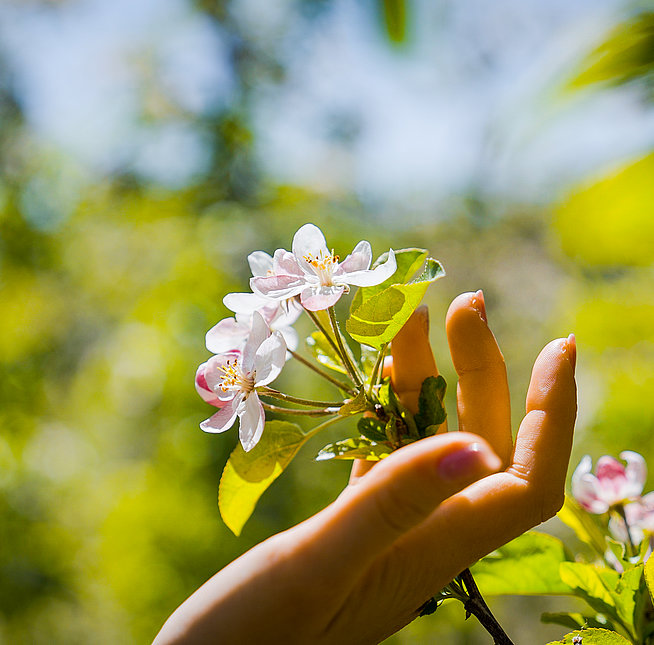 Apple is apple? Well, we don't think so!
Why not try one of the 16 South Tyrolean apple varieties? For example, the sweet Royal Gala, the fruity Pink Lady or a sweet and sour Rubens.
Well, are you still convinced that apples are apples?
The South Tyrolean apple tanks the energy of around 300 days of sunshine a year, rejoices in integrated cultivation, gentle harvesting, ultra-modern processing plants and the quality awareness of the fruit growers.
The crisp freshness and the high fructose content distinguish the South Tyrolean apple from other apples. This is also shown by the export figures.
12 of the South Tyrolean apple varieties can be found in the orchards of the Überetsch. Alternating with vineyards, the manageable plantations of the approximately 700 members of the Überetsch fruit farm and the Sacra fruit cooperative stretch up the gentle slopes.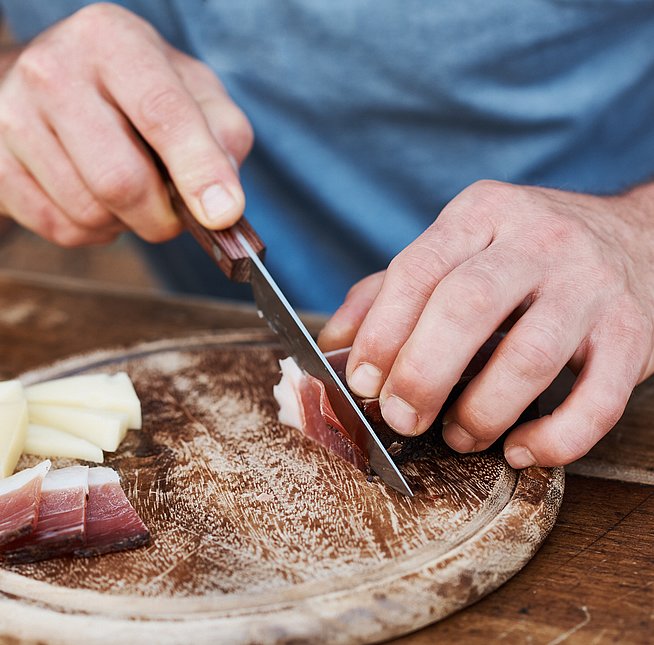 On the value of origin
Spicy, hearty, intense in flavour and lightly salted - only when the best, lean pork shanks from the region are cold-smoked does it come into being, the genuine South Tyrolean bacon that stands out for its special mildness and balance.
This local speciality is still produced today, as it was a hundred years ago, with selected high-quality raw materials from South Tyrol, the traditional cold-smoking process and under strict quality control.
For a special taste experience on holiday or at home: South Tyrolean bacon.
You can find homemade bacon in the butcher's shops as well as in the various delicacies shops in Eppan.
What's going on in Eppan right now?
Die letzte Traubenfuhre in Girlan
The last load of grapes in Girlan
Girlan | Eppan
To celebrate the end of the harvest, the last grapes of this season are traditionally brought to the village centre, pressed and savoured under the supervision of the historic vineyard keeper.
Chestnut aperitiv
Chestnut aperitif
Centre St. Michael | Eppan
Chestnut aperitif invites you to enjoy freshly roasted chestnuts, wine presentations from Eppan, live music by "3 Guat & 2 Schianere" and an exciting children's programme.
Happymarkt
Happymarkt
Rathausplatz St. Michael | Eppan
There is almost nothing that is not here and from 7 am you have the opportunity to browse beautiful curiosities and discover many a valuable items.
Törggelefest of the ASV Eppan Ski
Törggelefest of the ASV Eppan Ski
Festival square St. Michael | Eppan
Home-made Törggele specialities such as pumpkin soup, Schlutzkrapfen, spinach and pressed dumplings, home-made sausage,
Surfleisch, Rippelen with dumplings and cabbage, Krapfen, Strauben and chestnuts will be served.
Exhibition long exposure
Exhibition long exposure
Lanserhaus Eppan
The FotoClub Eppan cordially invites you to the new exhibition "Long exposure", a fascinating technique that allows amazing photographic results, at the Lanserhaus Eppan at 8 pm.
WineSounds on the Alto Adige Wine Road
Alto Adige Wine Road
Several prestigious concerts, combined with the excellent wines of this territory, will be held in the ancient walls
of the towns that unfold on one of Europe's most beautiful wine routes.
EGNO
EGNO
Hocheppan castle
June 1, 2023 marks the 750th anniversary of the death of Egno of Eppan (1273).
beyond CHALLENGE
beyond CHALLENGE
big Lake Montiggl
A fitness obstacle course with two distances and levels of difficulty for everyone at Lake Montiggl.