Lake Kaltern
Kaltern on the Wine Road
The Lake Kaltern is located on the Wine Road, around 9 kilometres south of St. Michael | Eppan. It is situated 216 meters above sea level and gives its name to the wine made from the Vernatsch-grapes, which are grown in the nearby surroundings.
Topography
The lake Kaltern is 1.8 kilometres long and almost 1 kilometre wide, which equates a surface of 155 hectares. It is filled in a shallow basin and therefore it is only 5.6 meters deep and that is the reason why South Tyrol biggest natural swimming lake gets heated up very quickly.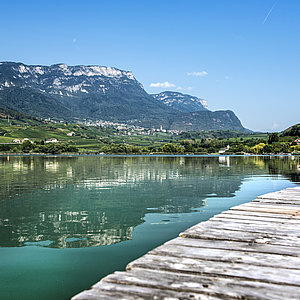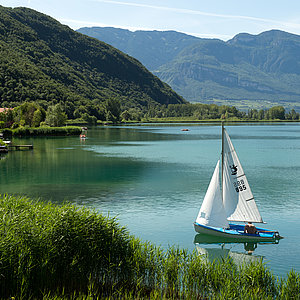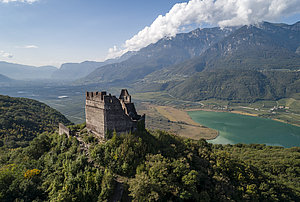 Utilization:
In the south of the lake a reed bed area is situated, which shows a multifaceted offer of seldom birds and sweep animals and is as well a nature reserve.
The other part of Lake Kaltern is more developed for tourism and especially on the east and west shore you find swimming areas, restaurants, hotels, car parks as well as two campsites near the lake.

You can enjoy a wide sport program for windsurfing, kite surfing, stand up paddling and sailing. Furthermore, you can rent rowing or pedal boats. Motorboats are forbidden. To run, hike or with the bike you can use the signposted walking path around Lake Kaltern.
Die letzte Traubenfuhre in Girlan
The last load of grapes in Girlan
Girlan | Eppan
To celebrate the end of the harvest, the last grapes of this season are traditionally brought to the village centre, pressed and savoured under the supervision of the historic vineyard keeper.
Chestnut aperitiv
Chestnut aperitif
Centre St. Michael | Eppan
Chestnut aperitif invites you to enjoy freshly roasted chestnuts, wine presentations from Eppan, live music by "3 Guat & 2 Schianere" and an exciting children's programme.
Happymarkt
Happymarkt
Rathausplatz St. Michael | Eppan
There is almost nothing that is not here and from 7 am you have the opportunity to browse beautiful curiosities and discover many a valuable items.
Törggelefest of the ASV Eppan Ski
Törggelefest of the ASV Eppan Ski
Festival square St. Michael | Eppan
Home-made Törggele specialities such as pumpkin soup, Schlutzkrapfen, spinach and pressed dumplings, home-made sausage,
Surfleisch, Rippelen with dumplings and cabbage, Krapfen, Strauben and chestnuts will be served.
Exhibition long exposure
Exhibition long exposure
Lanserhaus Eppan
The FotoClub Eppan cordially invites you to the new exhibition "Long exposure", a fascinating technique that allows amazing photographic results, at the Lanserhaus Eppan at 8 pm.
WineSounds on the Alto Adige Wine Road
Alto Adige Wine Road
Several prestigious concerts, combined with the excellent wines of this territory, will be held in the ancient walls
of the towns that unfold on one of Europe's most beautiful wine routes.
EGNO
EGNO
Hocheppan castle
June 1, 2023 marks the 750th anniversary of the death of Egno of Eppan (1273).
beyond CHALLENGE
beyond CHALLENGE
big Lake Montiggl
A fitness obstacle course with two distances and levels of difficulty for everyone at Lake Montiggl.