Autumn in Eppan
Golden rustles the autumn
Pleasant temperatures, but no more summer heat. Fruit baskets and crates full of fruit. Wine presses in constant use and freshly pressed wine. Autumn is so beautiful in Eppan. Although it must be said that harvest time is an extremely labor-intensive time for farmers. But after months of work in the vineyards and orchards, bringing in what was once harvested is the reward for all the effort. And why don't we, who create day in and day out, also reap a well-deserved break? Autumn is a time of high spirits.
Nature is colorful and exuberant - and makes it easy for us to follow its charms. After the green of summer, yellows and reds take hold. They bathe the vines and forests in a dazzling light, and it's not for nothing that people talk about the golden autumn.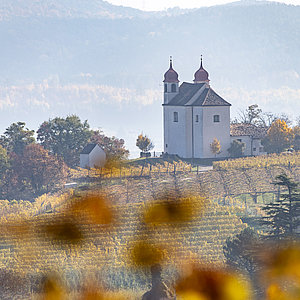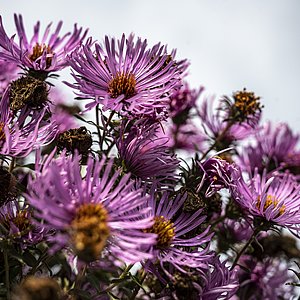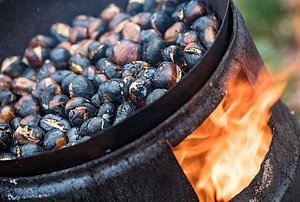 With autumn comes the time of Törggelen. After a beautiful walk through the autumnal landscape, you can stop at South Tyrolean farmers' inns or farms to delight your palate with delicious local products, accompanied by homemade wine. "Törggelen" is an old tradition: the tasting of new wine accompanied by a tasty snack of typical culinary specialties such as sausages with sauerkraut, black bread, speck, smoked meat, cheese etc.
On foot through the Eppan autumn
About 450 kilometers of well-marked hiking trails stretch through the diverse Eppan landscape. Autumnal walking and hiking tips can be found here in compact form.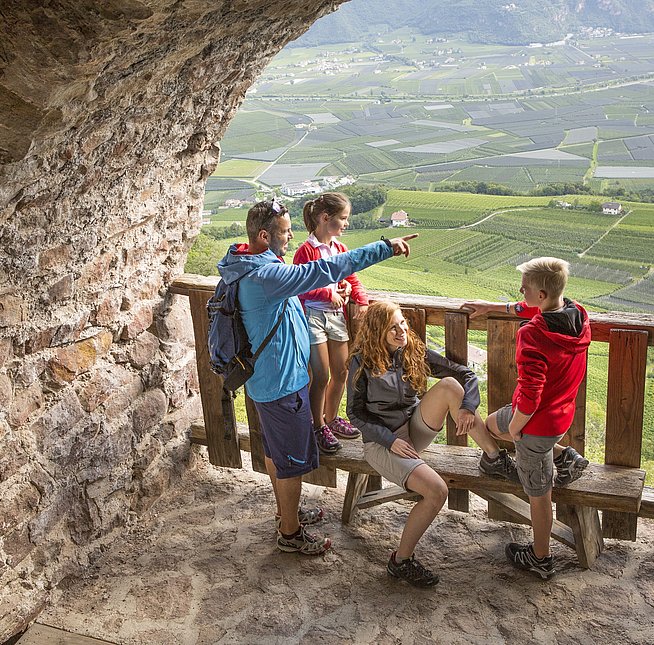 An eventful tour through autumn landscapes. After all, this well-maintained trail with some sporty climbs and descents connects three impressive historical buildings: Schloss Hotel Korb, Boymont Castle and Hocheppan Castle. Each of these castles is a testimony to medieval life, each scores with a magnificent panoramic view, and between walls steeped in history, the hiker can have something tasty to eat. A true Eldorado for children and discovery-hungry adults. The starting point is in the idyllic district of Missian | Eppan.
Starting point: car park in the forest, about three minutes by car after Schloss Hotel Korb
Trail number: 12 and 14, designation Castle Trail
Walking time: about 3 hours (plan a little longer with children), about 340 metres difference in altitude.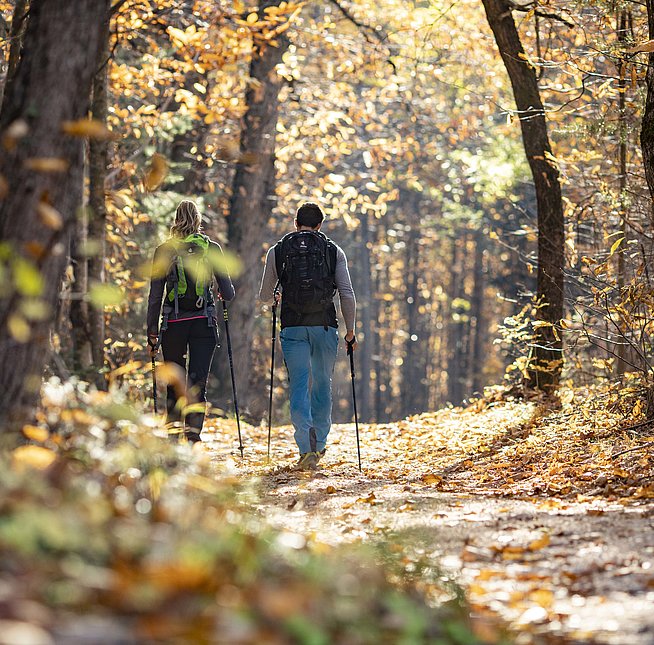 Along the high trail of Eppan to Buchwald
A demanding hike along the dominant Mendelkamm with very rewarding views. The high trail to Eppan covers a total of 14 kilometres (720 metres in altitude), which can take about five hours on foot. However, the length can be varied: For example, you can start at Gasthof Steinegger (650 m) to work your way up safely. The destination can be either the steep route to Furglau or the more leisurely path to Matschatsch.
Starting point: Steinegger Inn
Route numbers: 540 towards Furglau, 9 Eppaner Höhenweg, 546 to Buchwald, 8B to St. Valentin Forstweg back to Gasthof Steinegger
Walking time: approx. 3.5 hours
Trail length: approx. 8.5 km, approx. 500 metres altitude difference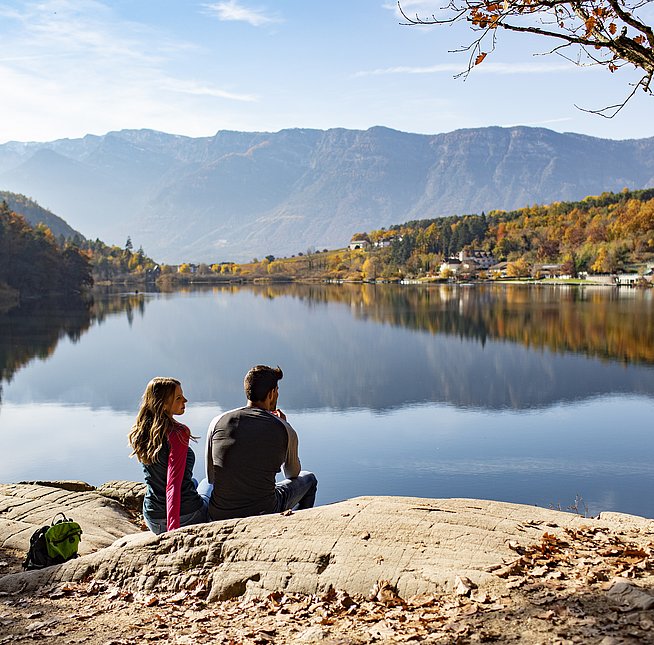 From the lakes of Montiggl to the "Wild Mann Bühel"
The Montiggl Forest promises pure relaxation: two idyllic bathing lakes, colourful mixed forests and nature protected by biotopes act as a balm for the soul of harried contemporaries. One of many beautiful hikes leads along trail no. 1 from the upper car park of Lake Montiggl past the large Lake Montiggl in the direction of small lake Montiggl to the Wilden Mann Bühel, a prehistoric settlement site at 650 m above sea level. An impressive panorama opens up to the hiker there.
Starting point: Lake Montiggl car park
Route: Montiggl - Wilder Mann Bühel - Montiggl Lakes
Trail numbers: 1, 1a
Walking time: approx. 2.5 hours with a difference in altitude of around 250 metres
Trail length: approx. 8 km (incl. hike around the lakes)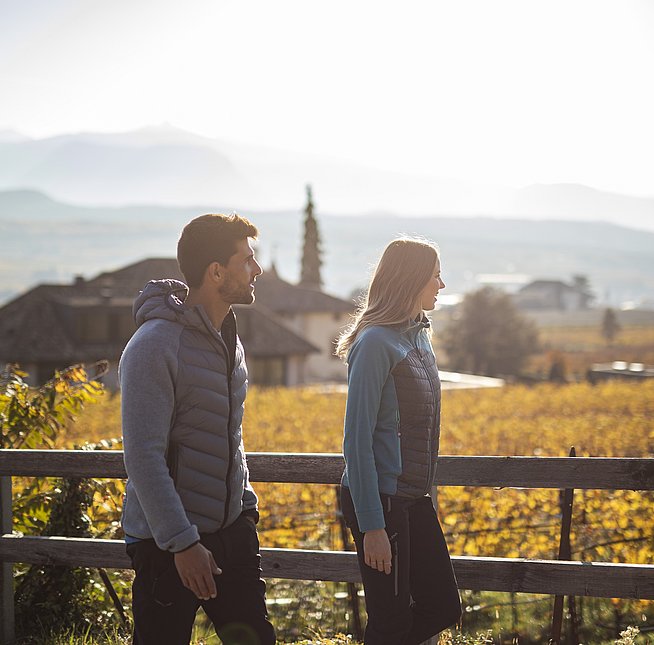 Walk from St. Pauls | Eppan to St. Michael | Eppan
Autumnal walk in the middle of the vineyards, connecting the two villages St. Michael | Eppan and St. Pauls | Eppan.
Starting point: Tetter car park P1
Route: towards the centre of St. Michael | Eppan - Goldgasse - Krafußweg - Aichweg - St. Justina-Weg to the centre of St. Pauls
Walking time: approx. 0.5 hours
Trail length: approx. 2.6 km, approx. 50 metres altitude difference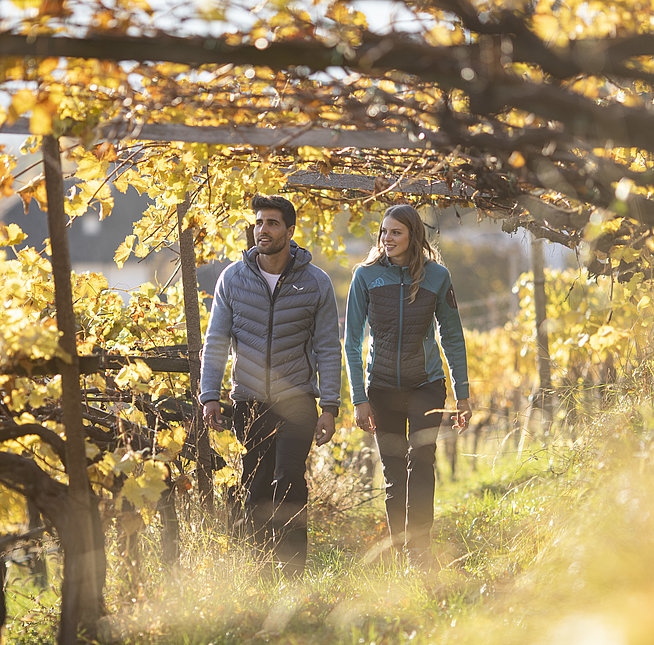 Walk along the wine trail
Walk along the nature and wine trail "Hoher Weg" in Girlan | Eppan.
Starting point: car park Seewiese Girlan | Eppan
Route: Girlan village square - Mühlweg - Bildstöckl turn right - wine educational trail - Girlan village square - Seewiese car park
Walking time: approx. 0.4 hours
Trail length: approx. 1 km