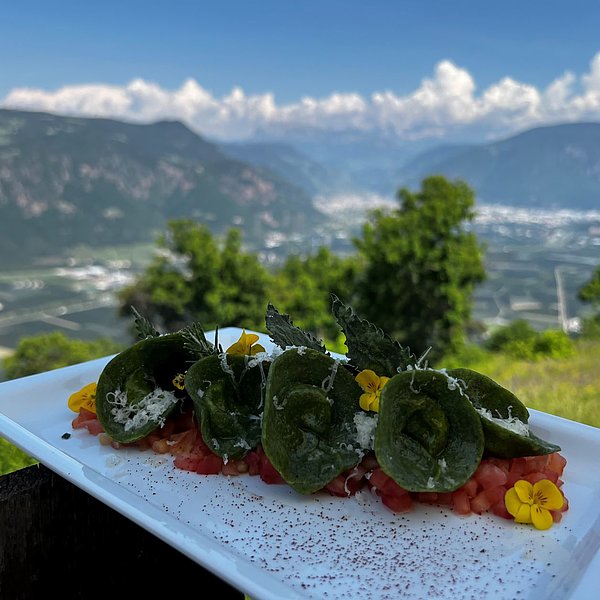 PLEASURE
Recipe | Nettle cappelletti | Herb ricotta | Tomato ragout | Rosemary butter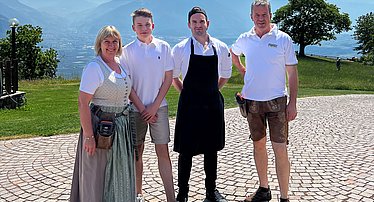 Preparation:
Mix the nettles with the yolks and the egg until a fine paste is obtained, then knead with the remaining ingredients until a smooth and soft dough is obtained. Wrap the finished dough in cling film and let it rest in the refrigerator for at least an hour. Then roll out the dough thinly with a pasta machine, cut it out and fill it with the herb curd. Finally, shape the cappelletti and set aside.
Mix the ricotta with the freshly chopped herbs, salt, pepper, nutmeg, and cayenne pepper and season to taste. Allow the finished filling to sit in the refrigerator.
Score the tomatoes on the underside and remove the stalk, then blanch briefly in water and shock in ice water. Peel the tomatoes, remove the seeds and cut them into fine cubes. Heat the concassee briefly in a pan and season well then provide.
Melt the butter in a sauté pan until the whey separates, then strain and add the rosemary. Allow the butter to infuse overnight.
Finishing:
Cook the cappelletti in salted water. In the meantime, put the lukewarm tomato ragout on the plate, then arrange the cappelletti on top. Slice the Alta Badia cheese over the ravioli and toss with the rosemary butter. Finish the dish with fine herbs.
A good success wishes the family Pichler Gasthof Lipp