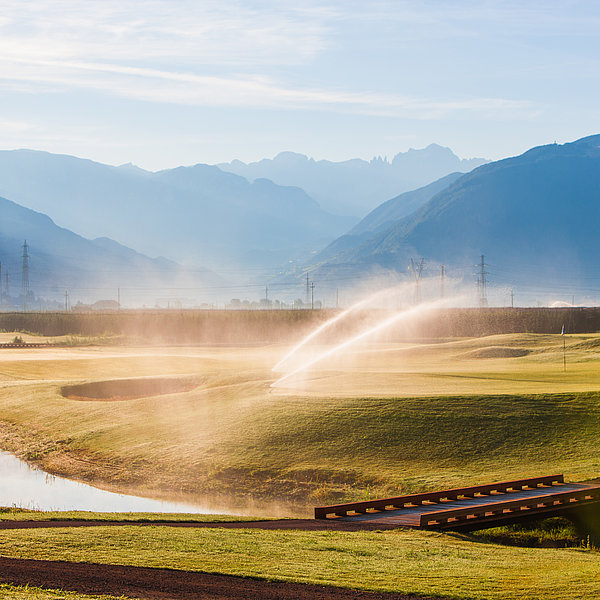 PEOPLE
A Golfing Gem
The "Blue Monster" is Eppan's top-class golf facility. Lots of water, even more greenery and a breathtaking view make for an unforgettable golfing experience.
"Oh wow, look at this, Lisa. It's better than my HD television!" says Malcolm J Harrison excitedly, in his best Oxford English. Harrison is the Head Professional at the Freudenstein Castle Golf Club in Eppan, and also at golf course, the "Blue Monster". Dressed in immaculate golfing attire, the golf instructor holds his hand up to his face, just above his light-blond eyebrows, to shield his eyes from the sun. With a look of intense concentration his gaze follows the path of the golf ball he just sent flying towards the mountains with a powerful swing of his club.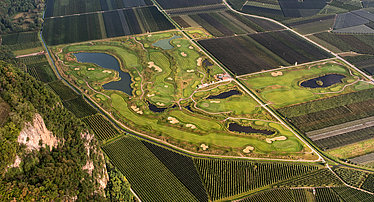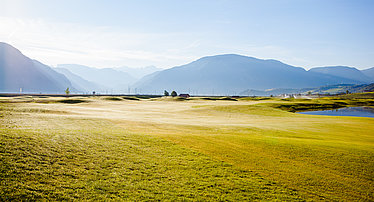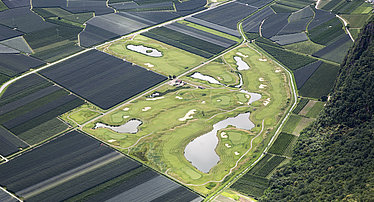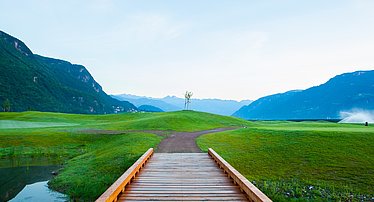 This is one of the most unique backdrops he's seen in his entire career, he says. It's difficult to follow the path of the white ball as it flies towards to russet porphyry and the dark green trees. In their dialect, the locals call this steep rock face the "hongetn Stoan". Yet this view isn't the only thing golfers can enjoy here on the plains of Eppan. "I love this setting," says Harrison, grinning broadly. When he turns full circle, his gaze roams over the Meran Texel mountain group across the various castles and manor houses of the area, on to the Bozen valley basin, the Schlerngebiet area, the Rosengarten massif and finally over the Weisshorn and Schwarzhorn peaks to the Gantkofel, Eppan's local mountain.
Nestled in the mountains, surrounded by orchards
Yet the president of the Golf & Country Club in Eppan, Alexander Gostner, and the award-winning architect Thomas C. Himmel, didn't simply want to imitate a traditional golf course in Eppan. Instead, they wanted to let the original terrain speak for itself. The hills of the golf course are on the site of what were originally Eppan's wetlands. This natural heritage is now reflected in the course's numerous water hazards, small lakes and rivers, which are home to all sorts of wildlife, including some rare species of birds. The "water aspect" also inspired the golf facility's name, though of course "Blue Monster" is not just the name of the ninehole course in Eppan, but also of the world-famous green in Miami.